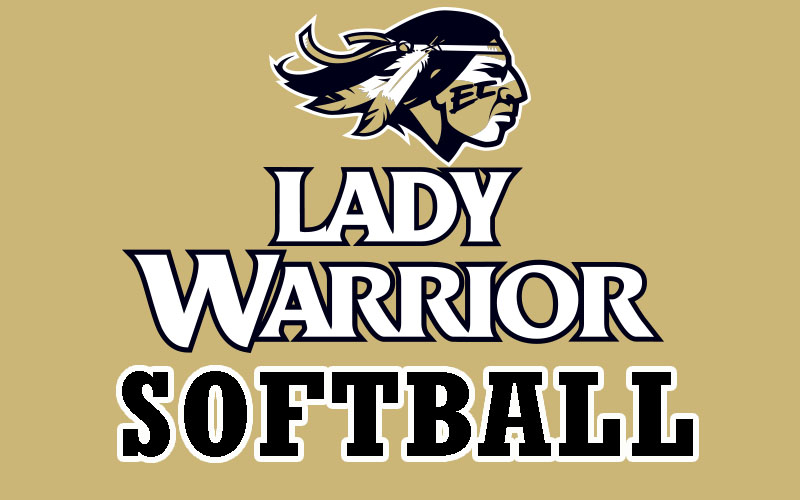 The East Central Community College Lady Warriors dropped a softball doubleheader to Hinds Community College in games played Wednesday, Feb, 27, at Rene Warren Field on the Hinds campus in Raymond.
The Hinds Lady Eagles won the opener 3-2 and then picked up a 10-3 win in the second game shortened due to lightning.
East Central falls to 3-4 on the season, while Hinds improves to 7-3. The games do not count in the MACJC league standings. The two teams will meet again April 24 in a doubleheader on the ECCC campus in Decatur.
The Lady Warriors had a chance to take the opener to extra innings in their final at-bat in the seventh inning, but freshman designated hitter Kailee Swindle (Hattiesburg, Presbyterian Christian School) was thrown out at the plate trying to score from second on a single from freshman right fielder Olivia Houston (Northwest Rankin). Swindle had singled to open the inning and advanced to second on a sacrifice bunt by freshman center fielder Parker Breland of Union.
Freshman pitcher Jesalyn Jarrette (Baskin, La., Franklin Academy) threw all six innings for East Central, giving up just three hits while striking out two. The Lady Eagles scored two runs in the bottom of the first inning on just one hit and two Lady Warrior errors and another run in the second on a passed ball.
Houston and freshman third baseman Hannah Dufault (Hurley, East Central) each had two hits for East Central. Dufault doubled in a run in the third for the Lady Warriors.
In the second game, East Central led 3-2 heading to the bottom of the fifth when Hinds erupted for eight runs on six hits, two walks, and a hit batter to take a 10-3 lead. The game was eventually halted due to lightning and impending rain with East Central batting in the top of the sixth. Because five innings had been completed, it was an official game.
East Central's runs came on a Dufault RBI single and a fielder's choice in the first inning and an RBI single by Houston in the fifth. Houston, freshman designated hitter Kaylee Webb (Ruston, La. Ruston), and sophomore shortstop Annika Jones of Leake Academy each had two hits in the loss.
The Lady Warriors are scheduled to play three games Friday, March 1, in the Coastal Alabama Spring Invitational in Atmore, Ala. East Central will face Southern Union State Community College (Ala.) at 9 a.m., Pensacola State College (Fla.) at 1:30 p.m., and Coastal Alabama-South at 3:45 p.m.
The first home doubleheader of the season is Monday, March 4, when Lansing Community College (Mich.) visits the Softball Complex in Decatur for a doubleheader beginning at 3 p.m.